Single Father's Book Club
The "Single Fathers' Book Club" is a list of books and reviews that I believe to be relevant to many of the circumstances shared by single dads, helpful resources in the areas of single dad parenting, dating, grieving, etc., or just books that I think the single father reader might enjoy.
Five Books Every Single Dad Should Read (or Listen To)
So, in a world of mobile device recorders, cameras on every corner, and video blogs (vlogs), it seems the number of people who read for pleasure is shrinking. Yeah, even I will probably start vlogging for The Single Father's Guide Blog and other projects that are in the pipeline.
Original Dust Jacket for Steinbeck's Grapes of Wrath
Even though I don't read as much as I used to or want to, I still read. As often as not, the books I've read have, in some way, found me rather than the other way around. When talking to someone I believe to be interesting and knowledgeable, I may ask that person, "What book that you've read has made the biggest impact in your life?" Then, I read that book.
Not necessarily implying that I am particularly interesting or knowledgeable, these happen to be the books that have made the biggest impression on me during my life.
The Grapes of Wrath
by John Steinbeck
The Story
: Steinbeck masterfully relates the long and painful journey of the Joad family, farmers who are forced to leave the Oklahoma dust bowl and travel to California where they hope to start a new and better life.
The Lesson
: The best, most heartrending, and most astounding end to any fiction I've read suggests that in the face of tragedy and profound sorrow, humans have a surprising capacity to love other humans.
His Needs, Her Needs: Building an Affair Proof Marriage
by Willard F. Harley
The Story
: Based on the premise that both women and men have specific needs in a relationship, the likelihood of an affair outside of a committed relationship when one partner perceives that one or more of those needs aren't being met. Harley lists the typical top five needs for women and those for men. Not surprisingly, the women's needs and men's needs aren't the same.
The Lesson
: I've been told this book has been used by marriage counselors for couples who are dealing with an infidelity. Counseling after infidelity is like Feng Shui in the lobby after the plane hit the first tower. As such, I suggest this book for my brothers who are in a relationship and who want to prevent infidelity. Not surprisingly, a woman's most important need is communication and that need is often most effectively met by listening. By the way, a man's most important need, obviously, is physical intimacy.
The Millionaire Next Door
by Thomas J. Stanley
The Story
: While the term, "millionaire," doesn't carry the gravitas that it once did, amassing assets in excess of one million dollars isn't anything to sneeze at. Americans who are able to accumulate wealth measured using seven figures or more frequently have a number of important behaviors and characteristics in common.
The Lesson
: Ironically, the kind of committed relationship one has with a romantic partner is a significant variable in creating wealth. The make of car one drives, whether a person owns a small (or large) business, and other seemingly unrelated factors are also correlated with wealth accumulation.
Mother Night
by Kurt Vonnegut, Jr.
The Story
: Howard W. Campbell Jr., who moved with his family to Germany from the United States when he was a child, is a renowned playwright, one-half of a "Nation of Two" with his actress wife, Helga, and a Nazi propagandist during World War II. He's also an American spy. Now, living in New York, Campbell narrates the the series of improbable events reuniting with his beloved wife, being discovered by a Nazi hunter, and his trial as war criminal.
The Lesson
: "We are who we pretend to be, so we must be careful about what we pretend to be."
For Whom the Bell Tolls
by Ernest Hemingway
Papa
The Story
: The plight of young U.S. Army officer, Robert Jordan, who is charged with rallying a band of Spanish guerrillas to help him dynamite a bridge during the Spanish Civil War.
The Lesson
: Includes the best-written chapter of any novel in the history of fiction. The chapter depicts, with unusual candor, the meaning of love and love's place in a man's heart in the context of fighting life's everyday battles . . . or the once-in-a-lifetime battle. (Reading Hemingway is like getting repeatedly punched in the face with a wet boxing glove. If the reader can endure the beating, the story and the lessons are worth the effort.) P.S. It tolls for thee.
Well, I guess that's enough for now. It's not likely many folks will have time to read these books, anyway. I believe they're all available via audio book, though. If you do read or listen to one or more of these books, maybe you'll say to a friend during a conversation, "I read about his book in a blog that I read. You might enjoy it."
Calico Joe: A Novel
by
John Grisham
Just in time for the start of baseball spring training, I finished John Grisham's venture into America's pastime, Calico Joe: A Novel, and I finished it with a tear in my eye.
A Christmas gift from my eldest daughter, who obviously "gets" both her dad and The Single Father's Guide to Life, Cooking, and Baseball, Calico Joe is the fictional account of a Chicago Cubs rookie phenom, Joe Castle. Joe hails from the tiny burg of Calico Rock, Arkansas. Hence, Joe is given the handle, Calico Joe, by a sportswriter. During the summer of 1973, the Cubs call up Calico Joe from the AA minors to replace an injured major leaguer. No one expects much from him, but Joe tears it up and sets a number of rookie records. He becomes the talk of baseball and Castle's walk-the-talk confidence has Cubs fans believing that the World Series curse may finally come to an end.
One of Joe's biggest fans is Paul Tracy, the 11 year old son of Warren Tracy, who is the New York Mets' number five starter. An alcoholic and a lifetime sub-.500 journeyman, Warren Tracy has a reputation of being a head-hunter. (For those not familiar with baseball jargon, Warren Tracy has lost more games than he's won and throws at batters as a means of intimidation.) During a series at Shea Stadium when Warren Tracy believes Calico Joe has shown him up not only during the game, but also in the eyes of his son, Tracy throws at Joe Castle's head.
The results of the bean ball are devastating, both for Castle and for Tracy.
A story of reconciliation, Calico Joe: A Novel is told decades after that infamous pitch from the perspective of Paul Tracy, now a journalist. There is no love lost between son, Paul, and father,Warren, and conciliation can only go so far after years of broken promises and broken dreams. Still, for Warren Tracy and Joe Castle, an apology and forgiveness changes lives.
I'd been an avid John Grisham two decades ago when his legal genre novels were the pinnacle of popular fiction. I think Grisham has a nice, simple story with Calico Joe. He acknowledges Chicago Cubs shortstop, Don Kessinger, and soon-to-be Hall of Fame manager, Tony LaRussa, as sources. Still, some of the accounts seem overly contrived and at least one conflict Grisham sets up is, in my opinion, too easily resolved. In all, though, Calico Joe is entertaining, easy, and somewhat evocative reading.
Now, who's ready for Opening Day?
I Grew Up On A Farm
by
Alan K. Lewis
Like a lot of people, I did not grow up on a farm. I grew up on a planned suburban development to accommodate Baby-Boomers' ever growing demand for affordable housing. Located about 20 miles outside a larger metropolitan area, there were 1,500 three-bedroom and two-bathroom ranch homes in our 1960's era subdivision, which required the clearing of hundreds of acres of farmland. At my house, there were no chickens, no cows, and no hogs.
I did not grow up on a farm, but Alan K. Lewis did.
2008 Charlotte Award Nominee book, I Grew Up On A Farm is a nostalgic journey through Mr. Lewis' real childhood experiences on the family farm near Middletown, New York where he and his brother were born and raised. The story is non-fiction and the reader will find no cute rhymes and no simple or entertaining plots. Rather, the young audience will find a simple and true account of life on a farm in rural America during the 1950's and 1960's. For example, on page 13, Lewis describes a typical summer night, "At night, we slept in tents under the stars. Our favorite nighttime games were playing flashlight tag and catching fireflies in jars to watch them light up." Lewis writes about his special pet on page 18, "I had a pet squirrel named Nutsy. My cousins would laugh when he climbed on my head."
Perhaps the most unique aspect of I Grew Up On A Farm is the illustration technique, which I do not know whether Lewis and illustrator Bob Fletcher created. However, the used of Lewis' real family photos which are expanded by Fletcher using colored pencils (I think) to include the images that may have been outside the view of the camera lens create a interesting and attractive effect. One image is that of the family's Parmall tractor, standing vertical on its rear wheel towing a farm implement. The picture is black and white and only a part of the grading tool in-tow and some trees in the background are visible. The photo is then used as the illustration's centerpiece and the remainder of the implement is sketched to the right, the trees fill-out the horizon, and Lewis's father and brother are included in the foreground and to the left to complete the illustrations. Several other similar illustrations, some lone photographs, and even a few newspaper clippings help Alan K. Lewis convey the farm experience. Very creative.
As much as anything else, it apparent that Lewis wants to teach. (Lewis had been a teacher in the area and is currently the assistant principal at a local elementary school.) And, teach he does. I Grew Up On A Farm includes both a brief glossary of farm terms like "coop," "poultry," and "slop," which for you city folk is defined as "a pig food made from grain, water, and pieces of vegetables." Finally, Lewis includes a number of active websites where inquisitive future farmers, or even future investment bankers who want to know a little about commodity pricing, can go to learn more.
In all, this a very nice book and a fun way for children take a step back in time to see what it was like to grow up on a farm.
Dads: Just For You
A very lovely and inspiring coffee table/night stand/bathroom book about fatherhood composed exclusively of quotations from a cross-section of people, from Euripides to Dr. Seuss to Mozart to William Shakespeare to Walt Whitman, and Life Magazine-quality images, Dads: Just for You is a very nice gift for Father's Day, Dad's birthday, or any other occasion. Some of my favorites quotes from Dads: Just for You include:
"Dads are great about showing us how to do stuff. Even if he doesn't really know what he's doing, he passes that knowledge on to us." - David Butler
"Confident men have patient fathers." - Rose O'Kelly
"There are three stages of a man: He believes in Santa Clause; he does not believe in Santa Claus; he is Santa Claus." - Bob Phillips
"Do dads talk about calories, or cavities, or spoiling your appetite? No! Dads grab themselves a spoon and dig right in with you." - Anna Carr
"My father was an amazing man. The older I got, the smarter he got." - Mark Twain
Compiled by Rose O'Kelly as a gift book for Ronnie Sellers Productions and Hallmark, the photographs in Dads: Just for You are often as humorous as they are appropriate for the corresponding quotation. Like, ahem, my 2005 illustrated children's book, Father Like a Tree, Rose O'Kelly's Dads: Just for You is a nice, if only a simple addition to any father's library.
Un-Remarried Widow by Artis Henderson
When I started to read Artis Henderson's Un-Remarried Widow, I'd assumed I was reading a work of fiction. Intrigued by the title, I'd grabbed the galley at the Book Expo of American (BEA) a few weeks back almost as an afterthought. There wasn't much information to preview, but the title somehow drew me in. As I continued with the interesting and easy to read narrative, I was awestruck by the too-real-to-be-fiction account of five year old A.J., her flight with her father in his single-engine Piper Cub, the plane's mechanical failure during flight, and the crash landing. A.J. survived, but the aftermath for A.J. and for her mother was daunting.
As the pages continued to turn, the author later referred to the main character no longer as A.J., but as Artis. It was then that I realized Un-Remarried Widow wasn't fiction or autobiographical fiction, but a memoir. (Actually, the book's title is, in fact, Un-Remarried Widow: A Memoir, but in my defense, the words, "a memoir," are written very, very small.)
Anyway, the phrase, un-remarried widow (URW) is a military designation for the wives of soldiers who are killed in action. Un-Remarried Widow is Artis Henderson's heartbreaking tale of her romance with a Miles, a pilot just like dear old dad, Miles's deployment to the Middle East, his death, and Artis's life after the loss. It's a pretty powerful story.
Artis Henderson
While Henderson's writing contributes to the ease by which the pages turn, her story is the attraction. Henderson begins in 2004 before she met Miles as she speaks to "Psychic Suzanna" in Tallahassee, Florida. As psychics are (apparently) apt to do, Suzanna predicts with astonishing accuracy the unlikely path that Artis's will take. From there, Henderson takes the reader on a journey through time. She travels back to her father's death two decades earlier in the Piper Cub crash and back to the first decade of the of the millennium when Artis and Miles marry, Miles is deployed to the Middle East and is killed when the Apache helicopter he piloted crashes during a sand storm. Throughout, Henderson skillfully examines the ironies and parallels that occur in life, the devastating void left by the death of a loved one, and the ways that those who remain behind learn to cope.
While this is The Single Father's Guide Blog, my instinct to pick up a copy of Un-Remarried Widow at BEA was a good one. The military aspect of the story appeals to men, while the romantic side will interest female readers. Particularly helpful for anyone who has experienced the loss of a loved one is Henderson's description of coming to terms with Miles's death and the decisions she made to create for herself a happy, fulfilled, and productive life.
Un-Remarried Widow
ends as it began, with Henderson speaking to a psychic about her future. Just as she did when her life as a young adult was filled with promise and hope, she is once again at a starting point in her life. Henderson's a little older and she's a little wiser. She still holds her love for Miles with her, but she is once again encouraged by the prospect a new beginning.
Un-Remarried Widow
will be available in stores in January 2014. I'll be more than a little surprised if this not the choice for more than one high-profile book club and on several bestseller lists
. PRE-ORDER Un-Remarried Widow: A Memoir HERE!
Sometimes, My Dad and I
by
Wade A. Mattingly & Matthew S. Field
True story.
Two years ago in the spring of 2011, The Favorite Son brought home a story he wrote at school during some sort of free learning time. The story was contained in a book which had a light blue paper cover and the interior pages were wide-lined primary paper. The name of The Favorite Son's book was
Sometimes, My Dad and Me
. On each of the five pages in his book was a one sentence description of how my then first grade son viewed is relationship with me. For example, on one page he'd written, "Sometimes, my dad and me, sometimes take a walk." Another read, "Sometimes, my dad and me, sometimes read to each other."
When I read the his little book, I was overwhelmed. The Favorite Son's story was so honest and innocent and beautiful, my first thought was, "What a nice children's book this would make."
A few days later, I put The Favorite Son's book into a Word document, edited the grammar, added a couple of more pages, and renamed it
Sometimes, My Dad and I
. I showed the "manuscript" to The Favorite Son and asked him whether he thought we should publish it. He said, "Yes."
For more than a year, the manuscript remained on my hard drive and on a couple of back-up drives while I focused on a couple of other projects, namely,
The Single Father's Guide to Life, Cooking, and Baseball
. Later in 2012, however, I moved
Sometimes
from the back burner to the front.
Using Facebook, gMail, LinkedIn, and other social media, I started my search for an illustrator. I'd received a number of inquiries, spoke to several artists, and finally settled on
C. Pierson DeCesare
, or as I know her, Catherine. She and I worked out the business details, I told her my vision, and she went to work creating beautiful and unique watercolor illustrations. For the design, I worked with the father of one of my good Warwick, New York friends, Tom Lennon, who'd also designed
The Dream Seeker
.
In time for Father's Day 2013,
Sometimes, My Dad and I
, the true story of a little boy's perception of his relationship with his dad, will be released.
For more information, check out the
Sometimes, My Dad and I on Facebook
and become a fan. To obtain a media review copy, please contact Tom Mattingly at Matting Leah Publishing at 845-987-2807.
A Friend for Dragon
by Dav Pilkey
When she was quite a bit younger, one of my daughters who had heard Dav Pilkey's`
A Friend for DRAGON
by her elementary school's librarian asked Santa for this book at Christmas. Santa delivered, but had mixed emotions once he read it.
In summary, the hero is a blue dragon appropriately named, "Dragon." "Sometimes Dragon got lonely," so he set out to make a friend. Dragon asks a squirrel, a hippo, and a crocodile to be his friend, but each is "too busy," "too tired," or "too grouchy," respectively. When an apple falls on Dragon's head and a little green snake pretends to be the apple's friendly voice, Dragon finally finds a friend at last. Then, Dragon and the piece of fruit do everything together in spite of the fact that the apple really does not actually talk and is not really capable of any emotion, much less friendship. Eventually, Dragon becomes concerned that the apple will not talk. While waiting for the doctor to tell Dragon the reason the apple will not talk, a walrus eats the apple. Dragon is devastated and becomes even more forlorn as the apple turns brown, rots, and "dies." Eventually, Dragon buries the apple and mourns, but the next summer a tree sprouts from the place where Dragon buried the apple. Over time, the tree grows and produces hundreds of apples with whom Dragon can apparently befriend.
A Caldecott Honor Book Award recipient (for
The Paperboy
,) Dav Pilkey illustrates
A Friend for DRAGON
in a very warm, colorful, and friendly way. The cute depictions of Dragon's exploits and emotions are quite endearing. Additionally, the text is easily understandable for the early reader target audience. However, while the story of Dragon's friendship with an apple is clearly a metaphor for perhaps a love of nature, a love of God, and/or a love for one's self, the more simple and literal translation is the protagonist's friendship for a piece of fruit. That's a little creepy. What is the message Pilkey is sending? "It's all right if you do not have any friends or lost a friend. Go to the kitchen and make friends with a cucumber?" If it's just a silly story - a children's book does not always have to have some great moral or deeper meaning, is the ignorance of the protagonist, Dragon, death the sort of subject for a fun, mad-capped, and harebrained romp? I don't get it.
Still, there are some nice take-aways for a young reader from
A Friend for DRAGON
. For example, while there may be people in the world who are not willing to be a friend, a person, young or old, should not have anxiety about it. Rather, find something else to do and friendship will eventually happen. Also, like the snake who misled Dragon and the walrus who ate the apple without asking, there are people in the world who will deceive and who will be insensitive. In those instances, the repercussion of people's misdeeds may be out of our control and make a negative impact, but we should make the best of the circumstances. What else can we do? Finally, life goes on, and life does, in fact, have a way of repaying debts, whether the repayment is a detriment or whether the repayment is a benefit, like the harvest of an entire new apple tree for Dragon.
Overall,
A Friend for DRAGON
is not a book I would have chosen to buy for any child in my life. It's just a little odd from my adult perspective. The fact remains, however, that my daughter asked for this book after it was read to her during "Library" time at school. She likes it.
A Friend for DRAGON
is not offensive, rather it's just a little strange, but there are a few nice morals a young reader can take from it. Those morals, along with cute illustrations make this book okay to read and own, but, with other wonderful children's books available on the subject of loss and grief,
A Friend for DRAGON
is not a book I would recommend.
Clapton: The Autobiography
Fame is a funny thing. Famous people live their lives under the scrutiny of the media, fans, and fair-
weather friends. Because of an exceptional talent, the famous person lives in a world that's almost fantasy, in that world develops an unrealistic sense of self, and the famous person acts based on that distorted perception. In the meantime, fans and devotees develop an image of the person based on information carefully disseminated by a publicist or through their own imagination. and believe that person who can sing or play or write or put a ball or a puck in a goal so singularly well also maintains that level of distinction in his or her personal life.
Fans of Eric Clapton, the musician/singer/songwriter, are likely to be disappointed by
Clapton: The Autobiography
because it is, in fact, honest. In addition to all of the heavily publicized episodes in Clapton's life, including his birth out of wedlock to a woman he was raised to believe was his sister, his departure from the Yardbirds because he felt the group had become too commercial after the studio session for "For Your Love," his marriage to Pattie Boyd, and the tragic death of his son Conor, the reader of Clapton is certain to learn that he his, in fact, human. Like all humans, Eric Clapton has experiences the same emotions, to greater or lesser degrees, as just about every other inhabitant of the planet. The reader discovers that Clapton is self-conscious, egocentric, narcissistic, and capable of petty jealousies, has suffered from depression, and was often not able to control his use of drugs and alcohol. In the process of his experiences, he alienated many friends and colleagues.
What I found most intriguing and entertaining about
Clapton: The Autobiography
was its rawness and honesty. I think it is clear that Eric, or "Ric" as family and close friends refer to him, literally wrote the book himself. (Obviously, the word "autobiography" in the title suggests the book was written by the subject, but that is not always the case.) The rhythm of the book and the ideas that Clapton conveys are clear and direct. Also, there appear to be no subject that is off-limits. He starkly discusses his addictions and the destructive relationships in his life. He talks about his like or dislike for any one of a number of his contemporaries including Steve Winwood, Ginger Baker, Jack Bruce, Paul McCartney, John Lennon, George Harrison Jimi Hendrix, Mick Jagger, Billy Preston, B.B. King, and J.J. Cale among many others. He explores in some detail his relationship with Harrison, whose wife Clapton eventually married. In other cases, Clapton indicates his like for one or another of his generation, other times he highlights his opinion of their eccentricities, and on still other occasions, he describes his envy and jealousy of them for reasons ranging from their musical skills or their ability to enchant and steal from Clapton his love interests.
I particularly appreciate Clapton's attention to his personal beliefs and interests. For example, among many of the music, art, and Hollywood crowd, hunting and firearms are about as popular as the cigarette manufacturers. Clapton makes no excuses for his love for hunting and shooting, nor does he hide his smoking. Similarly, he makes no secret of his suspicions and distrust of people like Rupert Murdoch and George W. Bush. Although not addressed in the book, these examples of Clapton's individuality reminded me of 1993 when he won a number of Grammy's for `Unplugged;' every other presenter and award-winner wore a red AIDS ribbon - except for Clapton. Whatever else he is, Clapton is his own person.
If "Ric" is the protagonist in
Clapton: The Autobiography
, then drugs and alcohol are the antagonists whose affects prevented Clapton from self-actualizing. If it can be considered such, the "resolution" included Clapton "getting clean" in the late 1980's, maturing to the point he could be a productive half of a meaningful relationship, and creating the Crossroads Clinic in Antigua to help others trapped by addiction. It appears to be a happy ending. I, for one, hope that it is.
Dan Slater's
Love in the Time of Algorithms
Dan Slater's Love in the Time of Algorithms is the contemporary online dating equivalent of a cross between A Brief History of Time (Hawking), which wasn't terribly controversial, and The Bell Curve (Herrnstein, Murray), which was.
Slater's tome leads the reader on a tour of the history of dating, from 19th century personal ads to the birth of computer dating in the 1960's to the present time. Today, segmentation of dating "markets," including young, old, straight, gay, fetishists, people who have sexually transmitted diseases, and even married people, exists. Daters' preferences are processed through complex computer code in an attempt, it turns out a profitable one, to connect love seekers.
(This book is) about how online dating – as both a revolutionary medium and a quirky, virginal industry – is remaking the landscape of modern relationships. It's about a man in Oregon whose plans to settle down took a detour when he discovered how easy it was to meet women online. It's about a young woman in New York whose compulsion to broadcast her online-dating adventures in social media .

.

. and about a cancer survivor in southern California whose isolation inspired her to start a niche dating site for people, like herself, who can no longer have sex. Authenticity, deception, commitment, intimacy, paranoia, sex, and trust – technology is changing all these aspects of relationships.

[i]
The tour begins with an anecdote of a couple of Boston area college students almost five decades ago who connected through a nascent computer dating service. It turns out, that couple married and became the parents of one Dan Slater. From there, Slater guides the reader through the history and growth of online dating while highlighting the visionary people and businesses that have broken new ground in connecting soul mates or a one-night stands.
Like many of the consumers of online dating services, Slater is candid and direct. Containing chapter titles like "It Knows My Anal Preferences," "Diaper Daddies and Lonely Stoners," and "Let's Keep This Fucker Coming Back," Love in the Time of Algorithms tells it like it is. Slater even goes as far as decoding some of the data for the edification and the potential benefit of the reader. For example, "When categorized by religion and gender, Jewish women are the most likely to claim they've never masturbated," "Vegetarians are twice as likely as nonveggies to enjoy giving oral sex," and "A woman's desirability, measured in messages received, peaks at age twenty-one. At age forty eight, men are nearly twice as sought after as women."
The narrative of an online dater, "Alexis," who is a Phish fan and a Phantasy Tour blogger, weaves its way through the book as much to reinforce some of Slater's conclusions as to provide some relief from the occasionally information laden text.
While Love in the Time of Algorithms is at least as much an academic treatment as it is self-help or recreational reading, it is a fascinating treatment of the evolution and current incarnation of online dating. Slater has done his research and don't shoot the messenger. Thank him. For the astute online dater, this one is an essential.
---
[i]
Love in the Time of Algorithms: What Technology Does to Meeting and Mating. Slater, Dan. Penguin Publishing Group. New York, New York. 2013. pp 8-9.
Porcelain Angel: A Daughter's Journal of a Mother's Journey Through Multiple Sclerosis
by
Allison Redfern

On February 9, 2013, my friend Allison Redfern's book, Porcelain Angel: A Daughter's Journal of a Mother's Journey Through Multiple Sclerosis will be released and available to purchase anywhere fine books are sold. Allison is a graduate of Lafayette High School in Wildwood, Missouri (the same high school as St. Louis Cardinals' third baseman David Freese) and an alumna of Indiana University. She and have a great deal in common, including our home town, many mutual friends, and the same publisher.
Porcelain Angel is the account of Jane Rolston Redfern's journey through Multiple Sclerosis (MS).
Beginning with glimpses at her journal entries, which reveal thoughts and concerns in the context of the diagnosis, the subsequent battle, and the daily joys and trials of motherhood, Porcelain Angel chronicles a family's triumphs, tragedies, and emotions resulting from living with MS. As years pass and the disease gradually steals from Jane Redfern the ability to put pen to paper, her daughter unwittingly continues the narrative through her own journal writing as she describes her own passage from childhood through adulthood and the effect of MS on her family

[i]

.
Clearly, Allison's central theme is MS and the effect that disease had on her family. Although not the focus, the loss of a spouse for an adult man, in this case, Allison's father, Rex Redfern, presents a series of challenges, even if his children are young adults themselves. When Jane succumbed to her disease, Rex became a single father.
Dad posed a question I absolutely never thought I would hear my father utter. "How would you girls feel if I were to go on a date?" I can't imagine the expression on my face. It was not that I didn't want my father to meet someone. He had been so incredibly lonely and his despair was almost tangible.

[ii]
While the challenges faced by a young single father may be arduous, those encountered by a mature single father may be no less profound. After decades of marriage, how does a single father who has adult children approach personal relationships? Rex Redfern's tack, which began with a frank conversation with his children, was about as sound as it could have been.
Reading Porcelain Angel is literally like sneaking into your sister's bedroom, stealing her diary, and poring over it with forbidden indulgence. An authentic, raw autobiography, biography, and memoir, Allison Redfern' personal account of her mother, Jane Rolston Redfern, whose battle with Multiple Sclerosis the reader will not soon forget.
To learn more about Allison, Rex, and Jane, pre-order your copy today: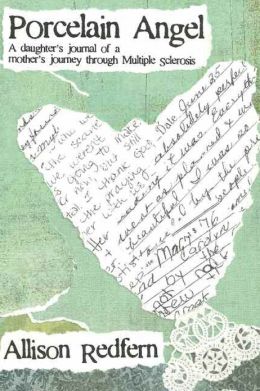 Credit: Matting Leah Publishing & Tom Lennon
---
[i]
Porcelain Angel: A Daughter's Journal of a Mother's Journey Through Multiple Sclerosis. Redfern, Allison. Matting Leah Publishing. February 9, 2013. Front flap text.
[ii]
Porcelain Angel: A Daughter's Journal of a Mother's Journey Through Multiple Sclerosis. Redfern, Allison. Matting Leah Publishing. February 9, 2013. p. 108.
* * * * *
Boys Will Put You On a Pedestal

So They Can Look Up Your Skirt
A Dad's Advice for Daughters
by
Philip Van Munching
With a title he took from an old Steve Martin routine, Phillip Van Munching has created a very nice, if not just a little out-of-touch book of advice from a father to his daughters. With a foreward from Katie Couric and a back cover testament from Dr. Phil McGraw, Boys Will Put You on a Pedestal So They Can Look Up Your Skirt: A Dad's Advice for Daughters does a fairly good job with addressing tender issues about which the author would want his daughters to know his opinions just in case he was "hit by a bus tomorrow."

Out-of-touch is really not quite the right phrase, at least when it comes to the advice which I found to be sound, direct, and rooted in traditional common sense. That is not to say, however, Van Munching took the easy way out when he ploughs through on issues like sex or drugs or faith, for example. Rather than using the tired and increasingly less relevent argument that "the Bible says," or because "God made us this way," Van Munching generally uses reasoned rationale to explain the positions he has taken. For example, a young girl should not use drugs not just (or necessarily) because of the damage it can do to a young woman's body. Rather, drugs can make a girl lose her ability to make good judgments which, in turn, can lead to a series of other, rather significant and immediate problems.

The concern I have is more in Van Munching's accounts of his own experiences with each of his topics. The stories he tells are his own direct experiences with these topics, his own experiences (I believe) may be a little off-putting for the typical young girl reader. For example, to illustrate his experience with cynicism, the author uses the first Roberto Duran/Sugar Ray Leonard fight. I'm not sure any 13-year old girls will connect with that. On the other hand, if a father reads the book and then finds a way to share it with his own daughters - even if it is a way to break the ice with his teenage daughters relative to some meaningful or difficult topic, then Van Munching has done his job.
* * * * *
How Murray Saved Christmas
by
Mike Reiss
I cannot believe I've missed this one. Published in 2000 by Price Stern Sloan, illustrated by award-winning editorial cartoonist David Catrow, and written by Harvard Lampoon and "The Simpson's" writer Mike Reiss,
How Murray Saved Christmas
is hilarious.
Written in the style of "Twas The Night Before Christmas," Murray is the proprietor of a Jewish diner. After a devilish little elf named Edison plays a practical joke that results in Jolly Ol' St. Nick getting knocked-out cold, it's up to Murray to save the holiday. Understandably, Murray is suspicious about the undertaking when Edison explains the predicament, "I can make you Whatever you wish. A nice piece of fish. Or a spinach knish."
Murray needs more convincing:
"Give me one reason to schlep through the snow,
Bringing billions of presents to kids I don't know.
Will anyone pay me? Will anyone tip?
What if I slip and fracture my hip?"
Eventually, Edison persuades Murray to stand-in for Santa Claus and Murray encounters humorously frustrating obstacles at his first few houses. Murray even has to try to assure a little boy at one of the houses that he, Murray, is in fact Santa by reciting the names of his reindeer, "There's Dumbo and Jumbo and Mason and Dixon, Cosmo and Kramer and Richard M. Nixon." The little boy remains skeptical.
Eventually, Murray gets the hang of present thing and even "...brought toys to the Naughty (a Very long list!)" When he finishes, Murray achieves a sort of cautious mutual respect with Edison Elf as the story ends with a cute, slight modification of a traditional Christmas greeting. It's a very nice ending for a book which includes an equally nice social commentary. The kiddies will enjoy Mom or Dad reading this one aloud, as long as Mom and Dad's laughing-out-loud isn't too distracting.
* * * * *
Motherless Daughters: A Legacy of Loss
by
Hope Edelman
Hope Edelman created a painstakingly researched and written tome on the subject of a girl's loss of a mother. Ms. Edelman knows her subject. It's clear from the dedication to the epilogue that the book is a dedication to her own mother who died in 1981. I'm sure the exercise was as practical as it was cathartic for the author.
What I like about
Motherless Daughters: The Legacy of Loss
is more than the research, more than Ms. Edelman's portrayals of her own experience, and more than the "case studies" of the scores of other motherless daughters who the author interviewed for the book - the practical "what to expect" stuff. While there are many examples, the one that made an impression on me was her descriptions of the grieving processes based on the age of the child. As I read Ms. Edelman's description of a young girl having to wait months after her mother died to begin the grief process because (and I paraphrase) the girl needed to know that she was "in safe and comfortable place to do so," I thought to myself, "Hey, she's right! That's really how it happened!"
Throughout the book, the author continues to make associations and suggestions based on her own research and that of other social scientists (end-noted) and supported by anecdotes from the motherless daughters she interviewed. I particularly appreciated the description of the "Four Types of Fathers" in the chapter entitled "Daddy's Little Girl."
My concern about
Motherless Daughters
is Ms. Edelman's almost incessant implication that when a girl loses her mother, there's not much that can be done and the girl will suffer. When the motherless daughter experiences menarche, her mother will not be there and the girl will be sad. When the motherless daughter loses her virginity, her mother will not be there and the girl will be sad. When the motherless daughter gets married, her mother will not be there and the girl will be sad. When the motherless daughter has her first child, well, you know. And, that's not the worst of it. As a result of these and other events, the motherless daughter may run a great risk of being socially maladjusted, may seek the wrong kind of men, may turn to same-sex relationships, may become an impotent parent, and so forth. Although Edelman suggested an heroic father or an aunt or grandmother who could serve as a second-best surrogate mother may help to some extent, it did not appear that there were many effective solutions to prevent the likely psychological damage Ms. Edelman suggested a motherless daughter will almost certainly experience.
I did appreciate the author's suggestion of enlisting a doula when the motherless daughter navigates birthing her children. The practical benefit of a doula to talk with the otherwise inexperienced and resource-less motherless and pregnant woman would include breast feeding tips and dealing with post-partum depression. However, there seemed to be little else in the way of coping skills.
A daughter's loss of her mother is among the most tragic, traumatic events anyone can imagine. Heck, fairytales often use the event and images to create an untenable situation for the protagonist, e.g., Snow White and Cinderella. However, whether we want to admit it or even think about it, one person's death does not mean that all life ends. It's doesn't. In the end, each person has to make the decision whether to move forward and find ways to live a happy, fulfilled life, or not. Even a motherless daughter.
In the final chapter entitled "The Female Phoenix," Edelman offers hope. She postulates motherless daughter may experience "an environment without limits...(which) provides freedom necessary for individual growth" where the "tragedy...can be a springboard for creativity and growth, and for working that tragedy out in very healthy ways." Examples of motherless daughters include Dorothy Wordsworth, Harriet Beecher Stowe, Charlotte and Emily Bronte, Jane Addams, Marie Curie, Gertrude Stein, Eleanor Roosevelt, and Marilyn Monroe, among others. Edelman's final line is, "a motherless daughter can emerge from the tragedy, and take flight," evidently like these high-achieving motherless daughters. The statement is valid, but a part of me isn't sure the author believes much can be done to affect that outcome.
* * * * *
Fifty Shades of Grey
by
E.L. James
Quite a bit has been written about the E.L. James literary phenomenon,
Fifty Shades of Grey
. This single dad's significantly less prolix take?
There's too much space between the covers.
Don't roll your eyes at me.